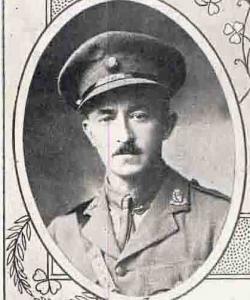 Charles Erskine
Barton
Place of Birth
Glendalough House
Circumstances of Death
Died from gas poisoning at a military hospital in France. Buried at Pas de Calais.
Other Biographical Details
Son of C.W.Barton, D.L. of Glendalough House, Annamoe, Co. Wicklow. Husband of Norah Deane Barton, 4 Mount Pleasant Villas, Bray, Co. Wicklow. Brother of IRA officer, Sinn Fein member and Anglo-Irish Treaty signatory, Robert Barton, who also was an officer in Royal Irish Rifles. Son of Charles William Barton and Agnes Alexandra Frances (née Childers). He was raised at Glendalough House with his Childers cousins, including the famed Irish Nationalist Robert Erskine Childers. In 1903 Ernie married Norah Grace Greene of Bank House in County Wicklow, making their home in Oldcourt, Wexford. While Ernie was leading his men in the trench warfare in France, his mother Agnes passed away. It's unknown if the news ever reached Ernie. Just two weeks later, he was killed in a German gas attack while entrenched on French soil. Captain Charles Erskine Barton, Royal Irish Rifles, is buried with his fellow soldiers, both Irish and English, at the Terlincthun British Military Cemetery in France. His younger brother Thomas is also buried on French soil with Irish soldiers and English soldiers in a British military cemetery.